Platinum Russian admin and Mega Uploader
Administrator
Moderator
VIP
Member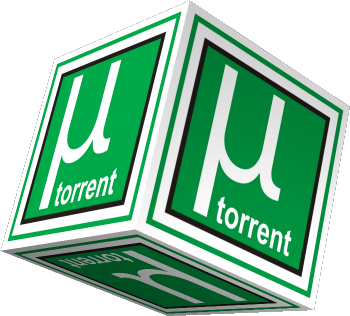 Software Version 3.5.5 Build 44994
Official site link
Interface language Russian English and others
Treatment not required (the installer has already been treated)
System requirements
Windows XP | Vista | 7 | 8 | 8.1 | 10 (32-bit / 64-bit)
Description
µTorrent is fast convenient free and compact torrent client. ΜTorrent client today is one of the most functional solutions for working with the BitTorrent network. The program combines optimal functionality with a small size. It supports work regardless of the tracker allows you to download multiple files at once has a custom bandwidth fast recovery of interrupted downloads and much more.
Features of the program
uTorrent supports parallel downloads;
Rationally uses the width of the channel and allows you to adjust it;
The uTorrent scheduler manages tasks;
uTorrent has the ability to set traffic priority and adjust the speed;
It has the functions of quick stop and resume downloads;
uTorrent supports UPnP and NAT-PMP as well as popular protocol extensions;
It has low memory consumption and small size of the program;
Supports reading RSS feeds and downloading torrent announcements;
Interacts with other clients without the need for a main tracker (DHT);
uTorrent supports protocol encryption;
The uTorrent interface has support for changing themes and the ability to translate into other languages;
uTorrent embedded remote control via HTTP-protocol using a web-interface (WebUI);
uTorrent works in all versions of Windows operating systems;
It is also possible to use uTorrent in Linux using Wine.
Pro version features
Instant streaming playback (beta)
Play or preview torrent files as they are downloaded without waiting for the full file download.
Convert download and play in a variety of formats.
Package µTorrent Pro includes a media player HD as well as the ability to convert files for playback on any device.
New features and capabilities of Premium
In µTorrent Pro constantly added new features. Get access to them at no extra charge!
Antivirus protection
Support the security of your PC by automatically scanning downloaded files for viruses and malware.
Easy access
Getting access to updates and new features before all the others.
No ads
Thanks to your Pro subscription and µtorrent support you can use the app without ads.
RePack features
Type Installation | unpacking (portable version from PortableApps).
Languages ML.
Integrated Langpack.
Optional disabled ads (without Pro) player and antivirus work!
Command line keys
Silent installation of the regular version / s / i
Unpacking the portable version / s / p
Note!!! When the installation is complete you will be prompted to change your browser homepage. Do not forget to uncheck.
DOWNLOAD
You must be registered for see links
or
You must be registered for see links
or
You must be registered for see links
or
You must be registered for see links
or
You must be registered for see links
or
You must be registered for see links
or
You must be registered for see links
or
You must be registered for see links
or
You must be registered for see links
or
You must be registered for see links
or
You must be registered for see links
or
You must be registered for see links
or
You must be registered for see links
or
You must be registered for see links
or
You must be registered for see links
or
You must be registered for see links
or
You must be registered for see links
or
You must be registered for see links
or
You must be registered for see links
or
You must be registered for see links